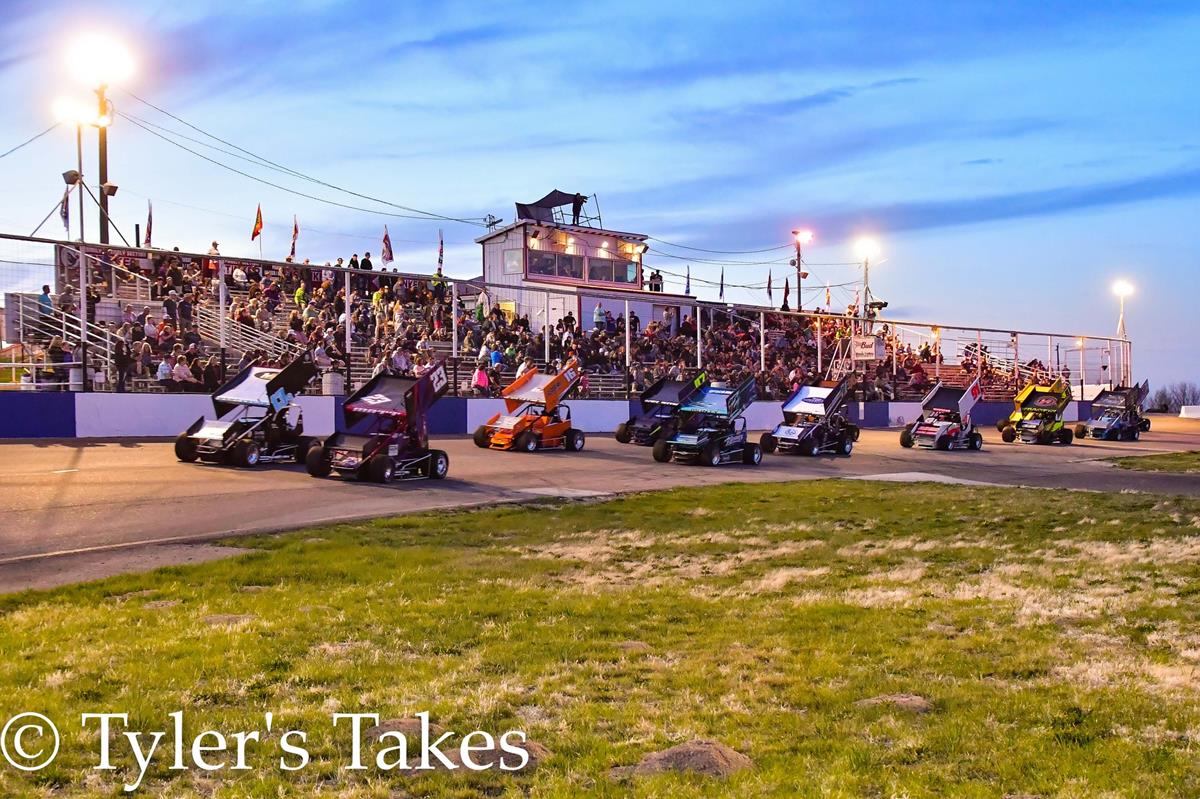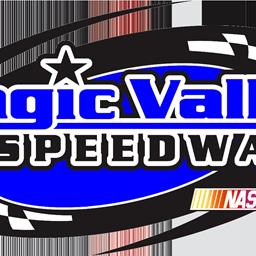 5/3/2023
Magic Valley Speedway
---
Nelson Powers to Sprintcar Opener Victory
The Speed Tour Sprint Cars roared into Magic Valley Speedway on Saturday, April 29, for the Bud Light Sprintcar Opener presented by Meadow Creek Service Center. The high-banked third mile oval also welcomed the Salt Lake City Midgets, McDonald's Street Stocks, Project Filter Mini Mods, and Quale's Electronics Stingers to open their Magic Valley Speedway seasons.
The Quale's Electronics Stingers got physical early as Coleman Green and Paxton Guiles exchanged body blows in the heat race. Despite heavy suspension damage Guiles was able to pull off a last lap pass to take the heat race victory by half a car length over Green.
Guiles got the jump on Green and fellow front row starter Kaethyne Gilligan to take the early lead in the Quale's Electronics Stingers feature. But Green's machine was fast, and the Meridian, Idaho racer ran down Guiles to take the victory. Kaethyne Gilligan came home third, followed by Bentlee Hillock, and Sophia Gilligan.
Shawn Lester dominated the night's McDonald's Street Stock action. Behind the wheel of his Jackson's Spuds, Solar Homes, LLC machine Lester held off defending division champion Steve Edens, Sr to win both the heat race and Saturday night's feature.
The Project Filter Mini Mod feature started with a bang as Sharla Rydalch and Gabriel Varin tangled in front of heat race winner Zach Rydalch on lap one. This left only defending Hornet champion Daniel Beem pointing the correct direction as the caution flag flew.
With the track cleared the green flag waved again and Varin charged through the pack before he and Zach Rydalch tangled in turn one as they raced for the lead. No significant damage was done, and when the green flag waved again Varin shot to the lead and the win. Zach Rydalch came home in second place and Beem came home third.
Anthony Quintana and Ashlyn Powell led a strong contingent of Salt Lake City Midgets to green on their 25-lap feature. While Quintana jumped out to a sizeable early lead, Powell was left to battle with heat race foe AJ Luttmer for the runner up spot.
After just a handful of laps this battle soured as contact shot Powell's Black Rifle Coffee Company, Schmidt Body and Paint mount into the front stretch wall. Undeterred, Powell gathered her open-wheeler and went back after Luttmer for the runner up spot.
But Luttmer's Utah Motorsports Foundation, TBK Racing machine was too strong, and Powell fell into the clutches of Devin Westover. Meanwhile, Luttmer forged ahead and sprinted past Quintana to take the top spot. It was a position Luttmer would not relinquish, and the West Jordan, Utah youngster cruised to the checkers.
Thirteen Speed Tour Sprint Cars powered by Pit Stop USA thundered to green for their forty-lap feature. On the break Preston Henderson motored to the lead while fellow front row starter Jaren Mott encountered issues with his sprinter. As Mott fell off the pace down the backstretch cars piled into one another behind him until Anthony Quintana, at the wheel of teammate Matt Elliott's sprinter, hopped over Natalie Waters' right rear tire and pounded the turn three wall.
Despite the damage to his machine Quintana was okay after the hit. On the restart Henderson dashed back to the top spot with Rob Grice, Colton Nelson, and Kyle Tellstrom in tow. Before Grice could make his move, Aaron McPeak suffered a right front wheel failure and slammed into the turn four wall. McPeak climbed from his Scorpion Racewear, Fireball Whiskey racer unscathed.
Once the green flag waved again Grice and Nelson charged past Henderson to take the top two spots. It wouldn't take Nelson long to make his move as the Meridian, Idaho racer used a lap fifteen restart to overpower Grice.
As Nelson scooted away from the pack quick qualifier Casey Tillman's YMC Inc, Tillman Equipment sprinter came alive, and he started to pick his way forward. Pinned to the low line Tillman dispatched car after car until with a handful of laps left he emerged in second place and started running down Nelson. But Nelson's Mulde's Auto Machine, PBT Auto Sales sprinter was too strong, and he cruised across the finish line first. Grice took home third, with Bryan Warf fourth and Riley Rogers fifth.
Up next on the high banks is May 6's Spectacular Drags Night, featuring the Bud Light NASCAR Modifieds, Zamp Pro-Late Models, Domino's Legends, Pepsi Mini Stocks, Hornets, and Bombers. General admission to Saturday's full night of short track action is just $14 for adults, $12 for seniors 60 and over and military members, $8 for kids 7-11, and free for kids 6 and under. Gates open at 4:45 p.m. with racing at 6:30 p.m. Log on to www.magicvalleyspeedway.com to purchase your advance tickets and keep up with all the latest news and notes from around the high banks. We'll see you Saturday, May 6, for Spectacular Drags Night at Idaho's fastest NASCAR Home Track, Magic Valley Speedway.
---
Submitted By: Tyler Schild
Back to News