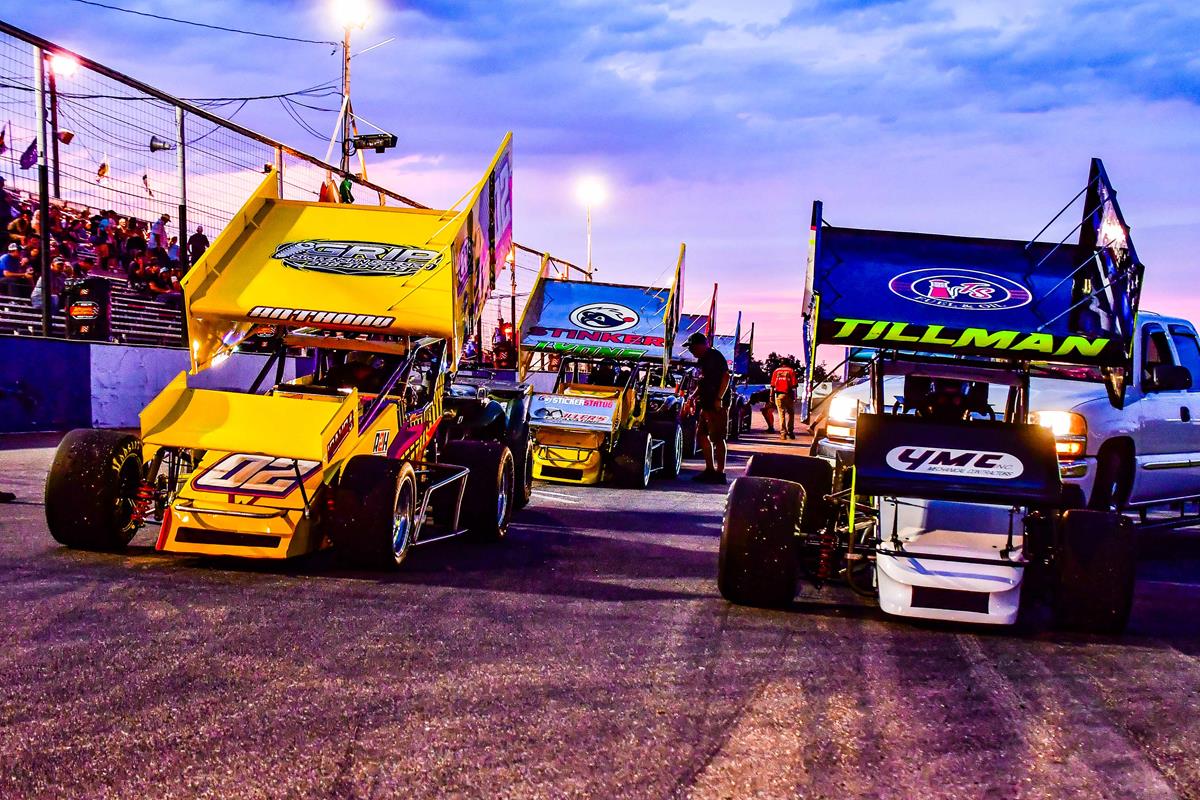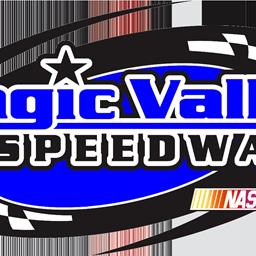 7/24/2023
Magic Valley Speedway
---
Surprise Winner Scores Skunk Cup 50 Victory
Thunder rumbled through Magic Valley Speedway on Saturday, July 22, as the Speed Tour Sprint Cars powered by Pit Stop USA ran the inaugural Stinker Skunk Cup 50. The Bud Light NASCAR Modifieds, Pepsi Sprntcars, McDonald's Street Stocks, Pepsi Mini Stocks, and Bombers rounded out a full night of short track thrills and spills on the high banks.
Eleven Speed Tour Sprint Cars powered by Pit Stop USA roared to life in search of the Stinker Skunk Cup 50 trophy. Pole sitter Casey Tillman was quick off the blocks and piloted his YMC, Inc, Joshlin N' Tom's Hideaway sprinter into the early lead. But the story of the race's opening laps was Mike Murgoitio, who slashed from his dead last starting spot to second before the race's first caution flag flew on lap fourteen.
Sparks flew when the green flag waved as Murgoitio and Tillman both tried to outmuscle each other into turn one. This contact cut Murgoitio's left rear tire and forced his machine to spin into the infield. In an unrelated incident deep in the pack, Troy DeCaire spun his Busch Light entry into the turn three barriers. While crews worked to get Murgoitio and DeCaire righted, Tillman's right front tire began to deflate.
With Tillman and Murgoitio in the pits for tire changes, the lead transferred to the Stinker, Eloy and Sons sprinter of DJ Lyons. Bryan Warf leapfrogged Lyons to take the lead on the restart, followed by Monty Bergener and Cory Lockwood.
A Colton Nelson spin slowed the field again soon afterward and set Bergener's B Graphics, Graco Models car alongside Warf's Allan Marsh Travel Center, Division Construction machine for the restart. Warf got the better of this battle, but was soon dispatched by Lockwood's lighting fast Stinker, Nampa Paving sprinter. Lockwood immediately dashed to a several second lead over Warf, but then Murgoitio blasted back into the picture and ran Lockwood down.
Just laps after Murgoitio powered to the lead Lockwood slowed and pulled to the infield with mechanical issues. The next lap Murgoitio spun into the infield off of turn two. The Meridian, Idaho racer stayed in the throttle, looped his sprinter around, and emerged sideways on the backstretch beside Anthony Quintana, who sped by to take over the top spot in his machine.
As Murgoitio had all night, he put his head down and soon pulled up to Quintana's tail tank. Quintana, who started his night losing a right front tire and clobbering the turn four wall, drove hard to keep Murgoitio at bay, but the strain proved too much and Quintana's machine spun to a halt in turn two.
This put Murgoitio back out front, but as he paced the field his engine overheated, which forced him to the pit area. This put the lead back in Tillman's hands, with DeCaire and Warf in tow. But bad luck bit Tillman again as his right rear tire was now going flat. Tillman decided to take the green flag anyway in hopes his tire could handle the race's final four laps.
Tillman pushed his raced hard into the first corner, but DeCaire pushed harder, and the Tampa, Florida racer piled into the back of Tillman's machine. Once the two separated DeCaire swung low and blasted to the top spot. Behind this battle, Nelson dispatched Warf for second, as did Bergener for third. With this final flurry of excitement, the checkered flag flew over Stinker Skunk Cup 50 winner DeCaire. Nelson and Bergener held onto second and third, while Warf faded to fourth and Quintana finished fifth.
"I really have no clue what just happened," said a befuddled DeCaire in victory lane.
In other open-wheel action, birthday boy Jett Nelson piloted his Giesler's Auto Repair, YMC Mechanical machine to his first Pepsi Sprintcar feature victory. Kaleb Johnson finished second, followed by Nate Little, Tony Ackerland, and Rich Montes.
Championship favorites Zach Webster and Eric Rhead split the night's Bud Light NASCAR Modified features. Webster wheeled his Idaho Powder Coating and Sandblasting, Checkmark Home Inspections modified hard to keep ahead of Jason Quale in the first feature, while West Bountiful, Utah's Rhead cruised to the win in feature two.
Tyler Palmer parked his Pepsi Mini Stock in the Winner's Circle Saturday. Palmer held off Corbin Black, Keith Ostic, and Robbie Hyde for the victory.
Ronn McClimans of Kimberly, Idaho wheeled his McDonald's Street Stock to victory over division dominator Shawn Lester and Andrew Palmer.
The race of the night was nearly the four-car Bomber feature. While AJ McGuire zipped to the lead Daniel Beem and Richard Scott renewed their feud off of turn four. The contact sent Beem's car careening through the infield where it slammed into the Stinger track asphalt. The impact catapulted the car into the air and folded the left rear suspension under the trunk.
This assembly alternately smoked in the corners and sparked down the straightaways until a course change to the Stinger track sent Beem once again into the grass. This time the wheel caught and sheared completely free from the rest of his car.
Somehow, Beem kept control of his three-wheeled machine as it pitched, rolled, and sparked wildly around the track. The Twin Falls, Idaho racer received the loudest cheer of the night when he crossed the line second behind McGuire.
Magic Valley Speedway roars back to life Saturday, August 5, with the Magic Valley Pipe 100 featuring the Speed Tour Super Late Models powered by Pit Stop USA. General admission is just $14 for adults, $12 for seniors and military members, $8 for kids 7-11, and free for kids 6 and under. Gates open at 4:45 p.m. Saturday, August 5, with races going green at 6:30 p.m. Log on to www.magicvalleyspeedway.com now to purchase your advance tickets, and text 'magicspeed' to 84483 to receive exclusive updates from our text club. We'll see you one mile West of the airport on Saturday, August 5, for the Magic Valley Pipe 100 at Idaho's fastest NASCAR Home Track, Magic Valley Speedway.
---
Submitted By: Tyler Schild
Back to News