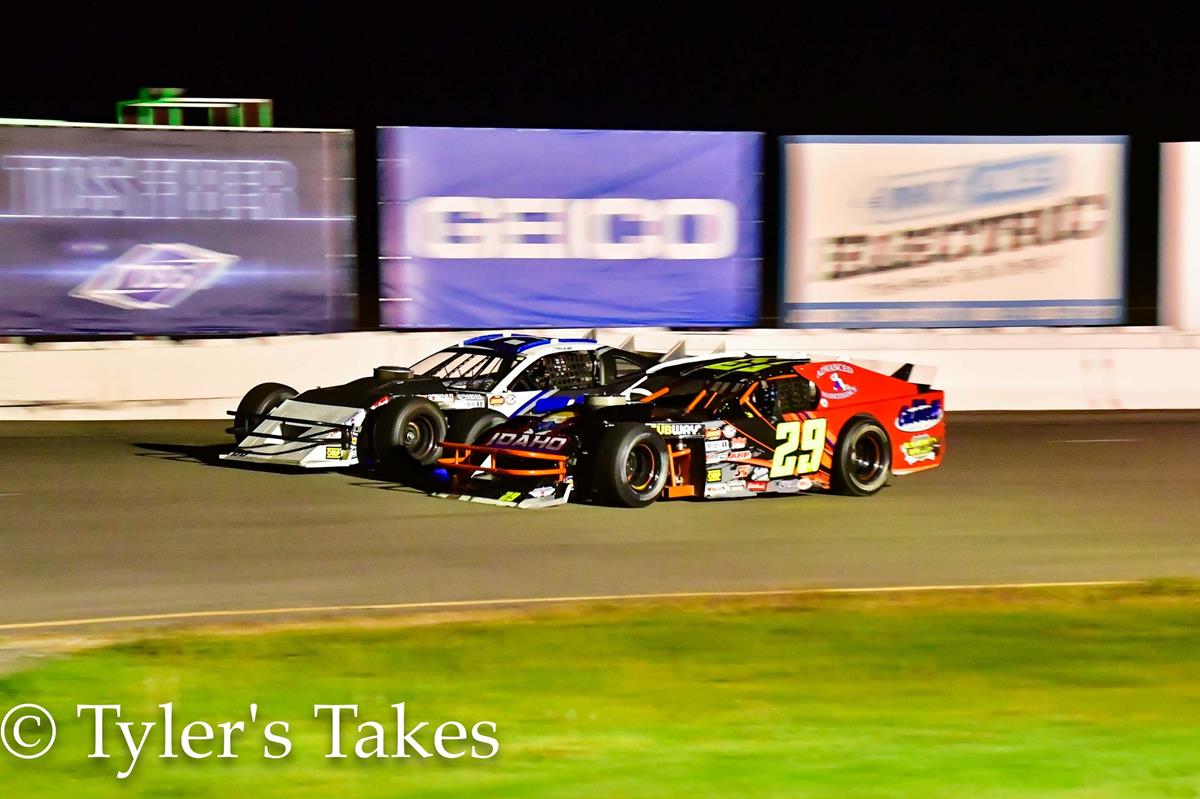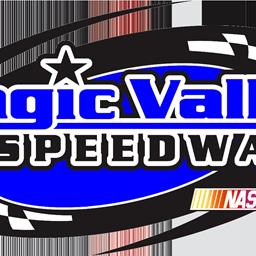 10/6/2023
Magic Valley Speedway
---
Rhead, Webster Slugfest Settled on Eve of Destruction
Nothing was left standing at Magic Valley Speedway after the paved third-mile oval hosted its first annual Quale's Electronics Eve of Destruction. A hearty crowd packed the stands Saturday, September 30, to see the Bud Light NASCAR Modifieds, Zamp Pro-Late Models, McDonald's Street Stocks, Project Filter Mini Modifieds, Hornets, and Bombers crown champions before chaos and carnage took over the season finale.
The Bud Light NASCAR Modified title was once again settled between Eric Rhead and Zach Webster. Rhead led Webster into Saturday night's action by a significant though not insurmountable margin of 64 points.
Shawn Lester sped to the early lead in the night's first feature, but his Jackson Spuds, Solar Homes machine wasn't strong enough to fend off Webster, who powered past for the lead. Rhead followed Webster past Lester and settled into the second position.
Thanks to an early caution flag Rhead lined up outside of Webster for the restart. Webster got to the gas pedal first and took the lead, but Rhead set up shop inches from his championship rival's rear bumper. As laps wound off the scoreboard Rhead applied heavier and heavier pressure until contact sent Webster spinning out of turn four. Webster avoided major damage to his Idaho Powder Coating and Sandblasting, Kym Gunnell Trucking mount, but did express his displeasure at Rhead under caution.
This handed Lester and Jason Quale the top two spots on the restart. Quale wasted no time and blasted to the lead before, he parked his Quale's Electronics modified in the winner's circle five laps later.
It was a remarkable turnaround for Quale, who was just one week removed from a vicious winged sprint car wreck during the Pink Lady Classic.
Willie Dalton led the Bud Light NASCAR Modifieds to the season's final green flag. Dalton held the top spot in his Coldwell Banker Distinctive Properties, Babbles Cleaners racer briefly before Rhead and Webster freight-trained him on their way to the front.
Rhead got the lead first and defended it from Webster for the rest of the race en route to his championship clinching seventh feature victory of the season.
The closest battle of the night was between Zamp Pro-Late Model points leader Emilee Newman and second-place runner Dan Root, Jr. Just nine markers separated these season-long rivals as they rolled into Saturday night's action.
Root, Jr set the tone early on, with a lap one, turn one three-wide pass for the lead in his heat race. Newman took a more conservative approach and kept her A/C to Z Mechanical, Airgas car out of trouble.
In the feature Doyal Moen overpowered Eddie Cole to take the early lead. But Root, Jr was on the move and within a couple of laps the championship hopeful found in a battle with Moen for second. Root, Jr got the better of this battle before he moved on to Cole.
But not all was well with Cole's machine and as the leaders flew into turn one his left rear tire went flat. Out of control, Cole spun right in front of Root, Jr, Moen, and the caution Newman. All three were able to sneak by without damage, though Cole would be forced to retire from the event.
This left Root, Jr and his JH Hillock Electric, Electric Contractors out front with Moen second and Newman third. Try as she might, Newman couldn't hustle her car around Moen and she was forced to settle for third at the checkers.
Some quick calculations were made in the winner's circle, and each pointed to Root, Jr as the champion by the slimmest of margins. Ultimately, just two points separated Newman from the title.
Seven McDonald's Street Stocks took the green flag on their Quale's Electronics Eve of Destruction night feature. Andrew Palmer jumped to the early lead in his Bobby's Transmission racer, but soon came under fire from division points leader Shawn Lester. Lester wheeled his Jackson Spuds, Turn Key Realty car hard in the outside line to get around Palmer but pushed too hard and spun in turn four.
As Lester stormed from the back of the field Ronn McClimans broke free from the pack to battle Palmer. McClimans and Palmer raced hard before contact sent Palmer around in turn four. This put both Palmer and McClimans at the back of the pack and left the lead to a resurgent Lester.
Lester beat Jeff Peck to the gas pedal and launched himself to the lead and eventual victory, his ninth of the season. Lester celebrated both the feature victory and championship win with some frontstretch donuts.
Gabriel Varin set his Project Filter Mini Modified to cruise and stormed across the finish line first to collect his Meridian Speedway-sponsored Feature Flag and NASCAR Track Champion accolades. But on his way through the pit area Varin piloted his Steve's Quick Stop, Outlaw Customs mount into his pit area instead of to the scales, a disqualifying infraction. Despite the disqualification Varin still claimed the division title over Cecil Miles.
Calculations for Hornet and Bomber champions were complicated by the multitude of bonus points available due to Eve of Destruction events. Points were awarded for participation in Auto Bowling, Hornets versus the Gauntlet, and the Boat Race of Destruction.
Ty Garibay needed every one of those bonus points to win the Hornet division championship. Garibay turned in a heat race win and a sixth place run in the night's feature, while second place point man Zachery Rydalch finished second in his heat race and won the night's feature.
Nearly even in the standings Garibay and Rydalch rolled into the Boat Race of Destruction, each looking to outdo the other to win the title. Rydalch put in a good showing, but Garibay got the most out of his PT Cruiser and won the Boat Race of Destruction outright. The bonus points for this victory put the Twin Falls, Idaho driver over the top and Garibay clinched the Hornet season championship.
Brandon Adams piloted his well-worn Straightshot Automotive, Pettis Country Market machine to a second place finish in the feature behind winner Alaura McWilliams, which looked to be more than enough to net the championship. But bad luck struck when his machine would not start for the Boat Race of Destruction. Sidelined, Adams could only watch as second place points runner Richard Scott not only started this race, but also picked up Master of Disaster honors.
When the smoke cleared and the calculations were run Adams still emerged victorious by just two markers over Scott.
With a wildly successful 2023 season in the books, all of us at Magic Valley Speedway want to say thank you to all the fans and racers that made it possible. We're already looking ahead to the 2024 schedule, where we're excited to bring you another action-packed, edge-of-your-seat year of short track racing the way it ought to be. Watch our website www.magicvalleyspeedway.com and the Magic Valley Speedway Facebook page for off-season updates. We'll see you in 2024 at Idaho's fastest NASCAR Home Track, Magic Valley Speedway.
---
Submitted By: Tyler Schild
Back to News