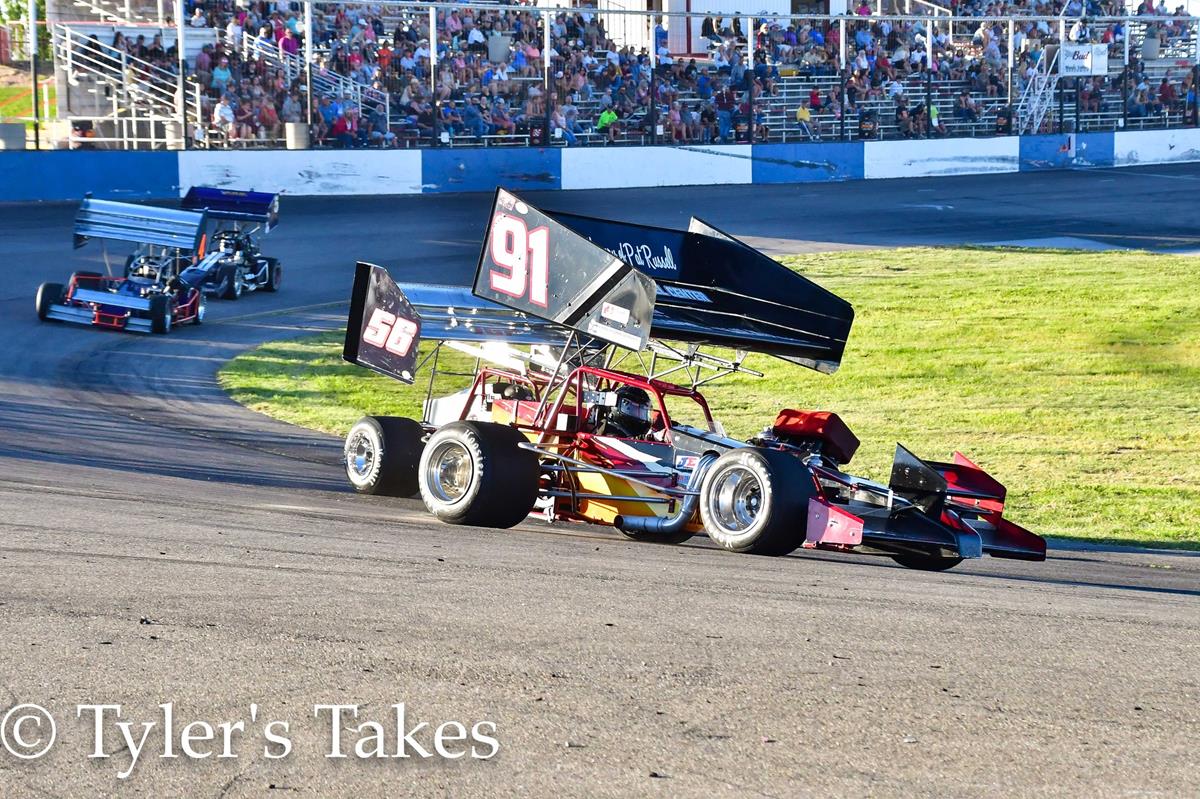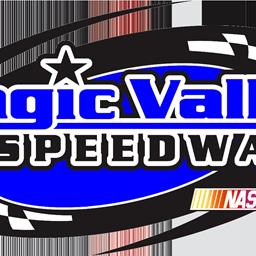 8/16/2023
Magic Valley Speedway
---
Warf Runs Wild For Second Supermodified Cup Win
After a sixteen-year hiatus, the Speed Tour Supermodifieds powered by Pit Stop USA made their return to Magic Valley Speedway as they battled for the Pat Russell Supermodified Cup. The Bud Light NASCAR Modifieds, Speedway Midgets, Project Filter Mini Modifieds, Pepsi Mini Stocks, and Bombers filled Saturday night's schedule with door-to-door battles for the night's Allan Marsh Travel Center trophies.
Eight asphalt-blistering Speed Tour Supermodifieds powered by Pit Stop USA roared to the Pat Russell Supermodified Cup green flag. Justin Funkhouser erupted off the line to take the early lead, but had Matt Elliott's Jackson Group Peterbilt, B&W Towing speedster on his tail tank.
Further back in the field, new all-time Magic Valley Speedway track record holder Bryan Warf started to make his way forward. Warf, at the wheel of his familiar, formerly Pat Russell-owned Allan Marsh Travel Center, Crossconn Services supermodified, blew past competitors one after another, until the race's first caution flag waved.
While the yellow flag was not for Funkhouser, the Oliverhurst, California driver found his left rear tire going flat and was forced to the pit area to change it. This left the lead in Elliott's hands, with Warf in his tire tracks.
The green flag waved and the lead duo roared into turn one. Warf looked high, but Elliott stuck his elbows out and held station in the lead for eight circuits. As twelve-second laps clicked off the scoreboard Warf seemed to only get faster, and he was finally able to charge ahead of Elliott into turn one to take the lead.
From here Warf set sail and blasted around the high banks to a half-track lead over Bennett, Colorado racers Richard and Cody Castor. Down the stretch Warf wouldn't falter as he sped to his second Pat Russel Supermodified Cup victory.
"To be able to run this car and keep...Pat's memory alive and supermodified racing, it's the greatest thing I can do as a racecar driver," said an emotional Warf as he collected the Allan Marsh Travel Center trophy.
The Bud Light NASCAR Modifieds opened Saturday night's festivities with a hard-fought thirty-lap feature race. Morgan Rasmussen grabbed the early lead but came under heavy attack from championship leaders Eric Rhead and Zach Webster. Rhead got to Rasmussen's rear bumper first, but Webster's Idaho Powdercoating and Sandblasting, Graphic Industrial machine came alive near the race's halfway point when he dispatched Rhead and fought his way to first place and eventually the victory.
In the division's second feature Rasmussen again grabbed the lead early, but this time was able to fend off all comers en route to the Allan Marsh Travel Center trophy.
Project Filter Mini Modified racer Cecil Miles piloted his Steve's Quick Stop, Outlaw Customs machine to victory while Ronn McClimans held off points leader Gabriel Varin for the runner up spot.
Pepsi Mini Stock pilot Mike Audet entered Saturday's action with a heavy heart, having just lost his father earlier in the week. Audet raced his way to the early lead but was run down and passed by the lightning-fast Tyler Palmer.
But as the laps wound down Palmer's machine lost speed and Audet rocketed back to the lead with just two laps left. Despite a wild slide through turn four coming to the white flag, Audet stayed ahead of Palmer and scored the victory.
River Merill beat familiar foe AJ Luttmer to the finish line by a mere six one-hundredths of a second to take home the night's Midget victory.
Alaura McWilliams scored the Bomber victory after a mad scramble through the infield put her ahead of the pack.
Racing returns to Magic Valley Speedway on Saturday, August 26, as the third-mile hosts the McDonald's Twin 25's presented by Idaho Central Credit Union. The Bud Light NASCAR Modifieds, Idaho Vintage Racers, McDonald's Street Stocks, Pepsi Mini Stocks, Bombers, and Quale's Electronics Stingers fill up the Saturday slate with plenty of short track thrills and spills. General admission is just $14 for adults, $12 for seniors and military members, $8 for kids 7-11, and free for kids 6 and under. Gates open at 4:45 p.m. Saturday, August 26, with races taking the green flag at 6:30 p.m. Stay up to speed with all the latest from around the high banks at www.magicvalleyspeedway.com, and be sure to text 'magicspeed' to 84483 for special updates from our text club. We'll see you Saturday, August 26, for McDonald's Twin 25's presented by Idaho Central Credit Union at Idaho's fastest NASCAR Home Track, Magic Valley Speedway.
---
Submitted By: Tyler Schild
Back to News